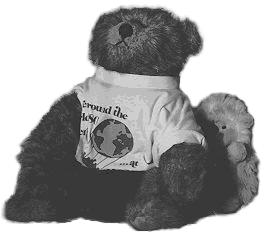 Hi, Baron's the name and I'm the webmaster around here. I'm originally from Northern California but I moved to Scotland in 1989. My little sidekick's name is Leopold but everyone round here just calls him Hog. He's French. I'd never met a hedgehog before I moved to Europe; we don't have any in the States.



I started running this website just before Christmas 1997 because the previous webmaster couldn't be bothered doing anything except putting pictures of sportscars on it. He's a little bit obsessed that way.

As for me, I like to travel. If you're interested, you can check out two pages of photos from me and Hog's last two trips to Amsterdam, one from December last year and one from June this year. There are still loads of other pictures in my photo album including some good ones from our trip to the north east USA.
What you'll find on this website

You can visit Graham's Garage if you find that sort of thing interesting. Check out the TVR files or read about our trip across America in a 1970 Plymouth 'Cuda. Our friend Derek has just embarked on his first season of motor racing and you can read how he felt about his first race. There are a few photos too. Bet you didn't know people race Citroen 2CVs!

See the world in Sarah's shades. This is a little photography project that started years ago. Some work really well, like Stonehenge, and some just don't quite hit the spot. The latest picture is the Statue of Liberty.
At some point in the near future we should have a guide to the best bars in Edinburgh. Just to fill in for the time being there's a small list to get you started. I'm told that Graham's working on it at this very moment. Personally I think it's just an excuse to spend a lot of time hanging around in bars. I could never see the attraction myself. Whenever I go out to a bar, I have just a half pint and that's the last thing I remember. Then the next day people start spreading rumours that I did all sorts of embarrassing things. Ridiculous! I have my dignity you know.

Graham and Sarah are always going to Amsterdam and by now they should know some good places to eat, drink and hang out. Here we have a good selection of beer bars, restaurants and a few other interesting places. It's a wonderful city with something for everyone. Even us Bears!
---
No human beings have been harmed in the production of this website. A few may have suffered some embearasment but what the heck.