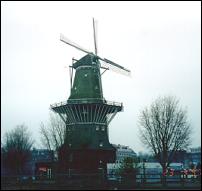 Yes, it's a windmill and I know it's a cliche but this one's a bit special. It's called de Gooyer windmill and it's the closest to the centre of Amsterdam. The special part is the small Brouwerij 't IJ and Proeflokaal (tasting room) that forms part of the building. The brewery is so small that it cannot satisfy demand and, although its beer is not that difficult to find elsewhere in Amsterdam, a trip to the Proeflokaal 't IJ is a must. Some may find the decor rather basic, consisting mainly of beer bottles, but the ambience is suberb. Be warned, however, that the hours are not conducive to most drinkers' tastes (Wednesday to Sunday 1500h to 2000h) but we have spent many a happy Sunday afternoon here enjoying the excellent beers and checking out the regulars. The snacks are limited (salami, cheese, nuts) but what more do you want? Just be sure to get there early if you want a table, because it tends to fill up rather quickly.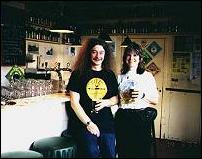 Some fine Amsterdam beer Cafés
Proeflokaal 't IJ - Funenkade 7
In de Wildeman - Kolksteeg 3
Café Gollem - Raamsteeg 4
Belgique - Gravenstraat 2





There's no point me listing any more cafés. If you want a reliable guide get a copy of 'The Serious Drinkers Guide to Amsterdam Beer Cafés' by Hugh Shipman or check out Ron Pattinson's



part of his excellent European pub and beer guides.

---
Eating
Restaurants
Burgers Patio 2e Tuindwarsstraat 12
Don't be fooled, this is not a burger joint. This is an Italian restaurant but don't expect pasta and pizza. The food is original and very tasty. Usually a couple of vegetarian dishes. This place seems to cope with large groups with unusual ease. All in all an excellent restaurant. Booking recommended but not essential.
If you're after pasta and pizza I'd recommend Mascagni Utrechtsestraat 65
Rose's Cantina Reguliersdwarsstraat 38
Amsterdams premier Mexican restaurant (in my humble opinion) never fails to please. Every time we go to Amsterdam we hear rumours that Rose's is not what it used to be but they always prove to be rubbish. You can't book here, just turn up and they'll tell you at the bar how long it'll be till you get a table. Relax at the bar with a drink and they'll come get you when it's time. The service is relaxed but quick. The food is authentic and filling. I hear their Margaritas are something special but as a beer drinker I wouldn't know. At least they listen when you don't want a slice of lime in your Dos Equis!
Sluizer Utrechtsestraat 43
Here's a quote from my brother: "It looked busier and slightly more expensive than those adjacent to it, which I took to be a good indication - and it was." Somewhere between Dutch and French, it's less pretentious than it looks, and cheaper too! If anyone knows how to make those wonderful layered potatoes I want to know. They have a fish resturaunt next door but I haven't tried that yet.
Haesje Claes Spuistraat 275
This labyrinthine basement restaurant is reckoned by many to be the best authentic Dutch food in town. I'm not really qualified to comment on the authenticity but the food sure is good. Just remember to take a ball of string so you can find your way back from the toilets.
Centra Lange Niezel 29
The only paella worth eating outside Spain, according to a Spanish colleague of a friend who lives in Amsterdam. You'll probably have to wait for a seat at a long communal table. The surroundings are basic but you won't notice because the food is out of this world. Mainly seafood but with a few poultry and meat dishes.
We're still trying to find the best steaks in Amsterdam. We've had wonderful steak at Albertos Carreta but on two out of four visits things weren't so good. Any suggestions welcome.
Cafés & fast food
Café het Paleis Paleisstraat
Difficult to miss with it's yellow and white awnings and only a couple of minutes walk from Dam Square this place is a gem. We dropped in one bitterly cold December day because it was the first cafe we saw after deciding it was lunchtime. Ever had a club sandwich with a fried egg in it?
---
More fun things to do in Amsterdam soon. We're off there again in a few days and I hope to get some photos for this page.