---
Knockhill, 2nd & 3rd of May 1998.

It has finally happened, after 3 or 4 years of wanting to, I've finally got my act into gear and gone racing. What an amazing feeling, sitting waiting to go out onto the track for your first ever race. Your stomach feels like it's somewhere in your neck but as soon as you get moving all your feelings are forgotten and I'm telling myself to be calm and sensible(!) about it all. In the first race (Saturday afternoon) I qualified 13th of 14 and finished the race without mishap in 12th place due to a retirement. The second race (Sunday morning) was far better! I started quite well and managed to stay on the tail of Gordon Dundee, who I managed to overtake a few laps later. Great! Now I have to stop him getting back past me! This led to a few hairy moments (running wide, missing gears and so on) but I held on to finish 9th this time - there were three retirements.
Next race 6th & 7th of June at Croft. I can't wait!
---
Croft, Saturday, 6 June 1998
Having never been here before, I was a bit apprehensive when I woke to grey skies and intermittent rain. The qualifying session was dry(ish), however, and I was placed 12th of 15. There was a minor trauma in the pit lane when the car refused to start, but it eventually fired with a push (thanks Graham!) As the grid lined up it was raining. Unfortunately (stupidly!) I had left the car in 2nd gear and got a very slow start; being passed by Paul Murphy, then re-passing him in the first chicane. I discovered that I enjoyed racing in the wet and set off after the next car, whom I hassled until he spun and I passed. Shortly after this I ran wide whilst chasing Messrs. Douglas, Storey and Taylor and brushed the tyre wall (didn't even crack the paint - lucky). This was to be my final placing - 9th - and a hugely enjoyable race.
---
Anglesey, 14th June
Not so good this time; I went out for the qualifying session, went too fast too soon and went off on the 5th lap, tearing the fuel line off and that was the end of that. I fixed the car in case one of the others failed to start but I ended up spectating at a very entertaining race. I wish race organisers wouldn't over-book! A very long drive for nothing, but it's all experience I suppose.
Anglesey photos by Phil Broster - © 1998 Classic Images Photography
---
Mondello Park 24 hours, 18-19 July 1998
And so to the year's big 2CV event. Actually driving came into being about a week before the race; prior to that I was going to be in the pit crew. I am very glad that I decided to drive; 4 sessions of 1-1/2 hours or so, the highlights being 2 am to 3.30 am in the pouring rain (again, I really enjoyed this) and finishing the race - I was allowed to drive the last hour for which I am very grateful. The car we were driving belongs to Dr Bill Carr (more commonly seen in a Silhouette Stratos) and my fellow drivers were Bill, Aubrey Brocklebank and Tim Stewart. There were 36 cars entered and we qualified 30th. We were as high as about 15th at one point, but a mysterious engine problem sidelined us and we dropped away back again. We were most of the way through changing the engine when Bill Murray's car appeared, having dropped a valve so we had two engine swaps going on side by side and drew quite a crowd. We eventually finished 27th and fell into the bar. What an event! If you get the chance to go and watch (or help), jump at it. Le Mans is far more expensive, and probably not a friendly or helpful. Brilliant!
---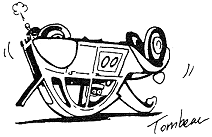 All drawings © 1998 Tombeautoons!